Dry eyes can be uncomfortable, even exhausting, to deal with. Thankfully, with technology like intense pulsed light (IPL), you don't need to deal with daily discomfort. This treatment can help provide long-term relief, but you may wonder how long its results last.
IPL treatment results can last several months, depending on the severity of your symptoms. Your optometrist can help determine if IPL is right for your needs and if you need additional dry eye treatments to relieve your symptoms.
What is Dry Eye?
Dry eye is a condition where your tears cannot effectively hydrate your eyes, leading to discomfort. Over 16 million Americans suffer from dry eye, living with consistent irritation.
When you blink, your eyelids spread tears across your eyes, lubricating, moisturizing, and protecting the eye's surface. Dryness can occur when your eyes aren't producing enough tears, or quality tears, making it harder to keep your eyes hydrated.
You may experience several uncomfortable symptoms when you have dry eye, including:
A stinging, burning sensation in the eyes
Gritty eyes
Red eyes
Stringy mucus in or around the eyes
Light sensitivity
Watery eyes
Blurry vision
Difficulty wearing contact lenses
What Causes Dry Eye?
Dry eye occurs due to problems with your tear film, 3 separate layers (mucus, water, and oil) that help keep your eyes clean, protected, and hydrated.
The mucus layer of the tear film helps tears spread across the eye, the water layer keeps the eye hydrated and cleans the eye's surface, and the oil layer helps prevent tears from evaporating too quickly.
When issues arise in the tear film, it can lead to:
Decreased tear production: Tear production can slow due to age, medications, or medical conditions. Without enough water, your eyes lack moisture, leading to dryness.
Increased tear evaporation: Certain factors, like dry or moving air, eyelid problems, infrequent blinking, or allergies, can cause your eyes to dry out faster. A common cause of this problem is meibomian gland dysfunction, where the meibomian glands responsible for providing oil to the tear film become blocked or clogged, causing dry eyes.
Your eye doctor can determine the cause of your symptoms during a comprehensive eye exam. They complete several dry eye tests to determine the root cause of your irritation. They then create a personalized treatment plan for your dry eye needs, recommending treatment to relieve your symptoms, such as IPL.
What is IPL Treatment?
Intense pulsed light (IPL) treatment can help improve dry eye symptoms. It uses light pulses that can help reduce inflammation and improve oil flow. IPL can target the blood vessels around the eye and clear blockages in the meibomian glands.
How Does IPL Work?
IPL works through the use of light pulses to target inflammation. These light pulses treat inflamed blood vessels in and around the eye.
Additionally, the heat generated by these light pulses warms the oil in the meibomian glands, removing blockages. Clearing the meibomian glands helps your eyes stay moist for longer.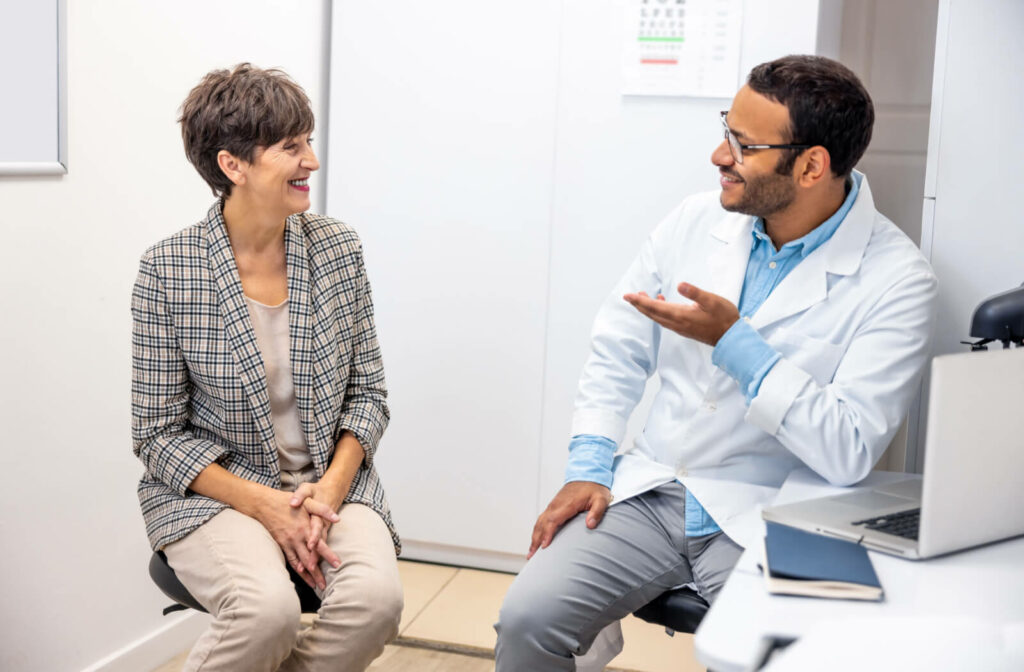 What Can You Expect During IPL Treatment?
IPL treatment itself takes less than 30 minutes. Your eye doctor uses a handheld device that can treat the affected area and help improve dry eye symptoms.
You can expect several steps during the IPL process, from preparation to treatment:
Before treatment: Your eye doctor will help you prepare for your first treatment session. They'll provide pre-treatment instructions, such as avoiding sun exposure and tanning beds.
During treatment: Your eye doctor places cooling gel and shields over your eyes to protect them. They then use a pulsing light on the treatment area for 10 to 15 minutes.
After treatment: Your eye doctor may manually express your meibomian glands to help stimulate oil flow to the tear film. Additionally, they'll provide aftercare instructions to follow until your next appointment.
You can return to your normal routine almost immediately following IPL treatment. However, there is the chance of minor side effects that improve with time, including:
Discomfort in the treatment area
Skin redness
How Long Do IPL Results Last?
After your treatment session, you may wonder how long the results of IPL last. You'll likely need a couple of visits to start feeling better. For the greatest results, 4 IPL treatments are recommended, but this varies from patient to patient.
In general, results from IPL last around 9 months on average. However, this timeline varies.
IPL isn't the only dry eye treatment your optometrist has available—they have many tools in their toolbox to help relieve dry eyes.
Find Relief From Dry Eyes
You don't need to suffer from Dry Eye Syndrome! Your eye doctor has several tools to help you find relief, such as IPL treatment. They can recommend treatment for your needs after assessing your eyes.
Contact Heartland Eye Consultants if you experience dry eye symptoms.