Some eye diseases or conditions can develop with little to no symptoms, which is a primary reason it's important to get regular eye examinations. Including your eye doctor throughout your entire eye care journey is one of the best ways to help preserve your vision.
But in between eye exams, it's essential to pay attention to any new symptom development. For example, early signs of macular degeneration include blurry vision, trouble seeing in dim lights, and faded-looking colors.
Your eye doctor isn't the only one responsible for your eye health. It's important that you know about the early signs of eye diseases.
What Is Macular Degeneration (AMD)?
Macular degeneration is also commonly referred to as age-related macular degeneration (AMD). AMD is the leading cause of vision loss in older adults. As we age, the macula sustains damage. Eventually, this leads to a loss of central vision, making it hard to do things like driving, cooking, or seeing someone's face.
There isn't a one-size-fits-all answer to how AMD happens. There are certain risk factors such family history of macular degeneration, being outside without sunglasses, smoking, and health conditions such as diabetes or high blood pressure that increase risks of developing AMD.
In some people, it can develop for years without symptoms. In other cases—like wet or late-stage AMD—the symptoms develop very quickly. Once gone, vision loss cannot be recovered, making it important to keep on top of regular comprehensive eye exams.
Types of Macular Degeneration
There are two types of AMD: wet and dry. Each one presents and affects the eye a little differently. Dry AMD is the most common form of this disease. There is no cure for it, but it typically develops slowly. While it's developing, your eye doctor can work with you to make the most of the vision you have with a low vision exam where you learn to utilize devices to see better.
On the other hand, wet AMD is less common but more serious, as vision loss can happen much more quickly. Typically blood vessels leaking fluid into the macula cause this form of AMD. Fortunately, treatment is available for wet AMD but sometimes still can result in permanent vision loss.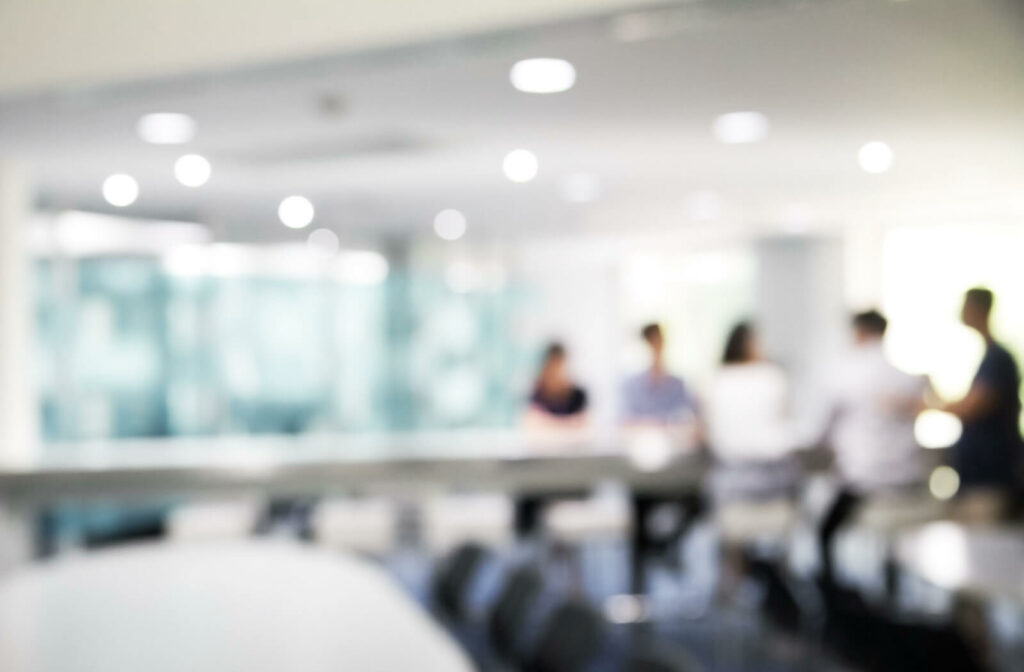 Early Warning Signs of Macular Degeneration
An important thing to note is that all wet AMD begins as the dry type. For many people, it stays this type and develops slowly over several years with little to no symptoms. An eye doctor can detect it earlier and recommend treatment to slow its development or see clearly with the vision you have.
But there are early warning signs you may notice, and they include:
Dry AMD
Needing brighter lights
Difficulty adapting to low-light situations
Increasing blurring
Faded-looking colors
Wet AMD
Difficulty recognizing faces
Crooked or wavy lines
Darkening spot in your central vision
If you notice signs of wet AMD, you should see your eye doctor as soon as possible. These don't necessarily guarantee you're developing AMD, but it's better to have your eye doctor check.
Detecting Macular Degeneration
During a comprehensive eye exam, your eye doctor typically checks all aspects of your vision and ocular health. They usually begin with questions about your personal and family health history, especially for an initial appointment.
This helps them determine whether you're at an increased risk for a disease like AMD. If they want to check further, they will likely dilate your eyes for a better look during the exam.
Because we know that AMD revolves around damage to the macula, our eye doctors can pay attention to the macular pigment optical density (MPOD). By taking MPOD measurements, the eye doctor can more accurately gauge your risks for AMD.
Treating AMD
The treatment options may include regular anti-VEGF injections or photodynamic therapy if you're diagnosed with wet AMD. Unfortunately, there are no treatment options for dry AMD but we do recommend macular health supplements such as AREDS 2 Formula and Lutein with Zeaxanthin for anyone with AMD or high risk of developing AMD. These Supplements have been shown to slow the progression of macular degeneration. We also recommend full time sunglasses wear, cessation of smoking, improving overall health with your primary care provider, and increasing green leafy vegetables and bright colored vegetables in your diet.
Book Your Next Eye Exam
We may not be able to prevent AMD, but when diagnosed in its early stages, your eye doctor may be able to help you slow its progression. The sooner AMD is slowed, the more vision loss can be prevented.
If you're experiencing the symptoms discussed today, it's important to see your eye doctor. But even if you notice other changes in your vision not listed above, it's best to have your eye doctor check your ocular health.
Contact us today and let our professional team at Heartland Eye Consultants take care of your eye's needs.