Dry Eyes & Blurry Vision
Most people assume blurry vision occurs when you need glasses or contact lenses. However, you may also notice blurriness when your eyes feel dry and irritated.
Dry eyes are a common concern, and the eye doctors at Heartland Eye Consultants are here to help! If you're experiencing dry eyes and blurry vision, we'll assess your eye health to pinpoint the cause of your discomfort and provide a tailored treatment plan for relief.
Dry Eye Has Many Symptoms
Dry eye disease, also called dry eye, is a condition where your tears can't effectively hydrate your eyes, leading to discomfort. Without enough moisture, you can experience several uncomfortable symptoms.
Dry eye disease can cause blurry vision, eye fatigue, burning sensations, watery eyes, light sensitivity, and even difficulty driving at night. Additional symptoms of dry eye include red eyes, gritty eyes, and light sensitivity.
Dry eye occurs when issues arise in your tear film. Your tear film consists of 3 layers (mucus, water, and oil) that work together to keep your eyes clean, protected, and free of debris. When one or more layers of your tear film experience problems, it can lead to dry eyes.
What Causes Dry Eyes?
Dry eye occurs due to issues with your tears, leading to irritation, inflammation, and discomfort. There are several reasons your tear film may change, including:
Age: People over 65 are more likely to develop dry eyes.
Medical conditions: Diabetes, thyroid problems, and eyelid inflammation can lead to dry eyes.
Pregnancy: Pregnancy and hormonal changes can increase the risk of dry eyes.
Medication use: Antihistamines, blood pressure medications, and antidepressants can affect tear production.
Environmental conditions: Wind, smoke, dry air, living in a dry climate, or using your computer for long periods without rest can influence tear evaporation and cause dry eyes.
When you experience dry eyes, it's often due to decreased tear production or increased tear evaporation, which are two common underlying causes of dry eye.
Decreased Tear Production
Decreased tear production occurs when your body doesn't have enough tears to hydrate your eyes. A common cause of this issue is aging—you naturally produce fewer tears with time. However, some medical conditions and medications can affect tear production as well.
Increased Tear Evaporation
Increased tear evaporation occurs when your tears dry too quickly, leading to irritation. The glands around your eyes, called meibomian glands, produce the oil in your tear film. This oil is essential for protecting your tears from evaporation.
Dry eyes can occur if problems affect these glands, leading to meibomian gland dysfunction.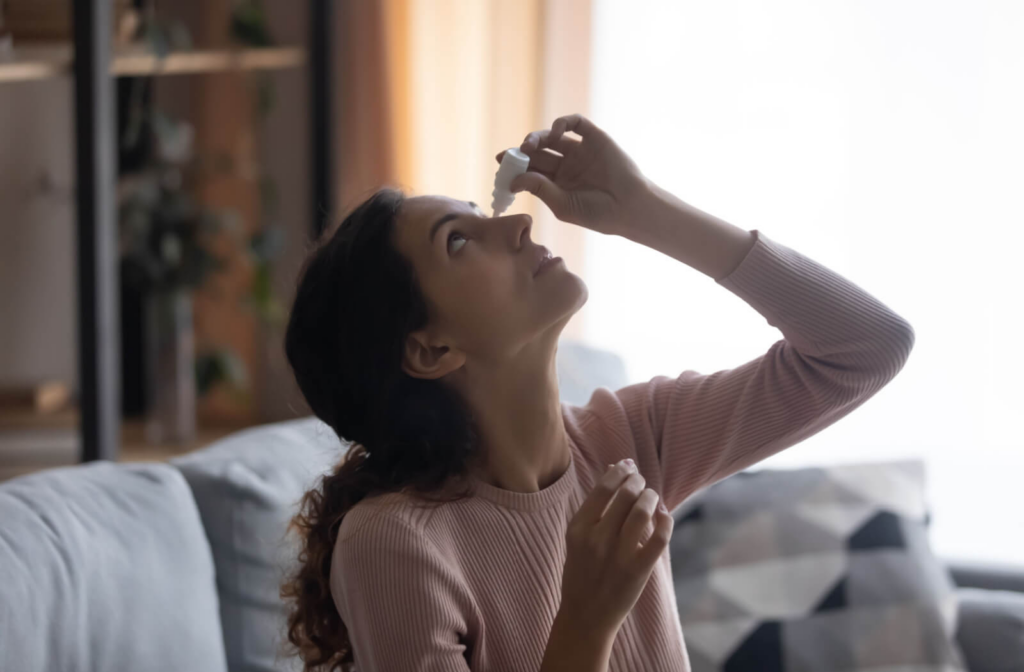 How Can You Treat Dry Eyes?
Many ways to treat dry eyes exist today. The question is, which treatment is best for your needs? As your optometrist, we can identify the right type of treatment by determining the root cause of your dry eyes.
During your eye exam, we may use several diagnostic tests, such as meibography, (an image of your meibomian glands), to evaluate your dry eyes. After assessing your test results, we can recommend a treatment plan to help you get relief from your symptoms.
Depending on your dry eye needs, your optometrist may recommend any of the following:
Find Dry Eye Relief
Dry eyes can cause several symptoms, from red eyes to blurry vision. However, you don't need to live daily life with this discomfort. As your eye care team, we can help identify the cause of your dry eyes and recommend ways to improve your symptoms.
Contact us at Heartland Eye Consultants if you experience dry eye symptoms to learn how we can help you get relief.